How a Coffee Tricycle Can Boost Businesses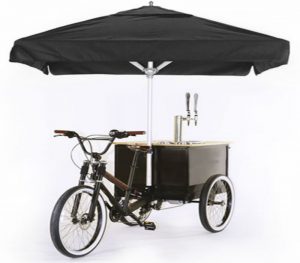 The tricycle is probably the quaintest and most ubiquitous of vehicles in the world, found all over Europe, Asia and the United States. In recent years, cafes and other coffee-associated businesses have been using coffee tricycles to promote themselves locally.
The coffee tricycle creates the perfect space for memorable branding. The more people who see your business' coffee tricycle, the more they can recall your business' name and what it's all about.
The Coffee Tricycle
Contrary to what some people might think, a coffee tricycle is actually an engineering wonder that looks simple but is equipped with everything an entrepreneur might need to put his best foot forward to excited customers.
A basic coffee tricycle should be equipped with a heavy-duty stainless steel frame for long-term use, a 24-speed drivetrain for easier use and less strain on the joints, a locked-in alignment axle, a parking brake to prevent slipping while the vehicle is parked, a rear hydraulic brake for safer driving, heavy-duty tires, 48-spoke wheels for stability and strength, and a powder-coated chassis and body for that sleek, luxurious finish that suits every branding effort.
The Benefits of Using a Coffee Tricycle
The tricycle brings back fond childhood memories wherever your business may be and will be an instant hit to customers.
A coffee tricycle encourages instant recall of a brand associated with it.
Upgrading a coffee tricycle is easy and relatively affordable.
You can add equipment to a coffee tricycle as needed, depending on the types of products you wish to feature.
A fully-equipped coffee tricycle is still easy to transport to distant locations, and you can use it instantly once you reach your location.
Find out more about how you can get your own exciting coffee tricycle at our website.