Tips for Designing Custom Diamond Engagement Rings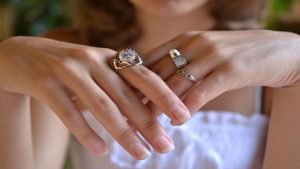 Most women would agree that the most important piece of jewelry they will ever receive in their life is their engagement ring. This symbolizes the promise of forever with the person they love. The only thing that can make this moment even more special is if their partner has created something custom just for them. Custom diamond engagement rings are unique and can be designed to perfectly match a personality, style, and budget.
Timing
When you decide to create a custom engagement ring instead of buying one from a store, you will have to make sure you have enough time before you wish to propose. Custom diamond engagement rings do take longer to create, as there is usually a design consultation, a sketch, 3D model of the ring, and then the final creation. After the ring has been made, it's common to have a few tweaks done. All of these steps take time, so you want to get started right away.
Consider Tastes
Before meeting with a jeweler to discuss custom diamond engagement rings, you'll want to consider her tastes and what sort of jewelry she currently wears. The metals, general style, and size of her jewelry are all things you should take into consideration. Don't be afraid to bring in a few of her favorite pieces to the jeweler to get started or to ask her close family members or friends for advice. Make sure the ring you design is something that won't get in her way during her job or active lifestyle, as she'll want to wear it all the time.
Any engagement ring is a beautiful symbol of love, but one that has been custom designed shows how invested you are in her and your relationship. This process can be a lot of fun when you work with the right jeweler and will result in a ring she will love for the rest of her life.